Why NGS, Why Now? A Q&A with forensic laboratory directors on their decision to implement Verogen technology
Thursday, May 21, 2020 | 10am PDT / 6 pm BST / 7 pm CEST
For decades, forensic laboratories had limited choices for DNA analysis. A recent surge in approved technologies, notably next-generation sequencing (NGS), is providing laboratories with a variety of options to enhance capabilities. Amidst competing priorities, more laboratories are choosing to prioritize the implementation of Verogen NGS into their operational workflows.
Featured On-Demand Webinar
Forensic Genetic Genealogy: An Emerging Game Changer for Cold Case Resolution
Forensic genetic genealogy (FGG) is revolutionizing cold case investigations by producing previously unobtainable investigative leads. When traditional methods are inconclusive or all other options are exhausted, genealogy databases offer a new route to identifications. GEDmatch, one of the most widely known databases, has proven its effectiveness by helping law enforcement identify more than 70 previously unknown suspects.
If you are a forensic scientist, law enforcement professional or genealogist interested in learning more about FGG then register for this free educational webinar where experts will provide real-world insights regarding the impact of FGG from the complementary viewpoints of forensic scientists and law enforcement.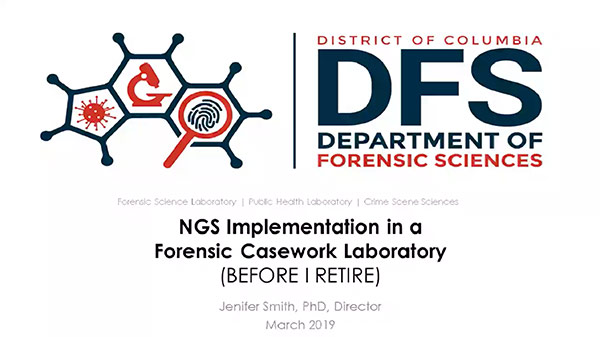 NGS Implementation in Operational Forensic Casework Laboratories
In this recorded webinar, Dr. Jenifer Smith discusses the advancements that support mainstream adoption of NGS and casework implementation insights from her laboratory, the Washington D.C. Department of Forensic Sciences (DC DFS).
Look for more webinars in the near future
We have a number of webinars planned for 2020 and will be updating this page with details as soon as they are scheduled.
Talk to a Forensic Expert
We create thoughtfully tailored genomic solutions for forensic DNA labs.
Let us help you overcome limitations and solve more cases.