The Future of
Forensic DNA
Has Arrived

Powerful sequencing
technology from Verogen
Watch how labs are using NGS to recover
more data from biological evidence
Good things come
in green packages
Introducing a host of
improvements from Verogen.
Starting with the 96 reaction
ForenSeq DNA Signature Prep Kit.
Unlock the power of massively parallel sequencing (MPS) for forensic applications
The MiSeq FGx Forensic Genomics System is the first fully validated, Massively Parallel Sequencing (MPS) solution designed for forensic science.
Verogen serves those who pursue the truth using genetic tools. It's about advancing massively parallel sequencing to help unlock the true potential of forensic genomics. Supporting labs with innovative solutions and expert service purpose-built for the challenges of human identification. And, ultimately, to improve public safety and global justice for all.
Overcome Limitations. Solve More Cases.
In forensic laboratories worldwide, challenging DNA samples frequently require multiple interrogations to extract usable data. If the attempts are unsuccessful, valuable evidence and resources are consumed and cases remain unsolved.
The MiSeq FGx® Forensic Genomics System harnesses the power of Illumina's gold standard sequencing by synthesis (SBS) technology to analyze hundreds of forensically relevant markers (STRs and SNPs) in a single interrogation.
Now forensic examiners can develop more detailed profiles from degraded, mixed, and limited biological evidence samples, addressing a wider range of questions in a single, targeted assay.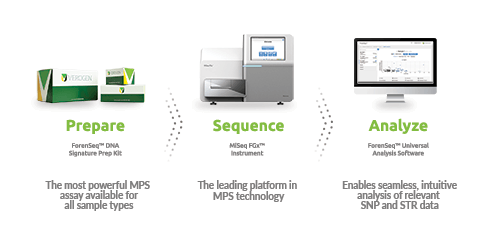 The Evidence Speaks For Itself.
"The formation of Verogen is exciting as it demonstrates a greater commitment to focused development and support of forensic applications for massively parallel sequencing."
"The advantage of the MiSeq for us is its versatility. We're able to look at so many applications at the same time, whether it be methylation for age prediction, metagenomics, or normal sequencing of STRs that we would use in a traditional crime scene case"
"It was very obvious that massively parallel sequencing could provide a much deeper insight into the true nature of complex mixtures, especially in terms of picking up minor contributions"
Learn more about how Verogen's technology can unlock the power of MPS for forensic genomics applications.
Talk to a Forensic Expert
We create thoughtfully tailored genomic solutions for forensic DNA labs.
Let us help you overcome limitations and solve more cases.
Please fill out this brief form, or call:
1.833.837.6436 Toll-Free (North America)
+1.858.285.4101
+44 (20) 399 28411 (United Kingdom)
We will respond as soon as possible.